Classes available at 360 Kids Academy
Infants (ages 6 weeks to 12 months)
We provide a pack n' play to sleep in and apply the safe sleep method.  You will provide a pack n' play sheet which will be sent home every Friday to be laundered and returned on Monday.  Please make sure to return your child's sheet/blanket on Monday because we do not have extras to provide.  You will supply diapers, wipes, and two sets of clothes.  Your child will be fed according to a schedule you discuss with Infant room staff.  You should feed your child breakfast at home before bringing him/her to the center.  You are responsible for bringing the amounts of bottles and food he/she will eat that day.  Children will be held during bottle feedings unless they can hold the bottle themselves at which they are allowed to do so while being closely monitored.  Between 10 and 12 months we will begin taking them off the bottle and switching to a cup during the day.  This will prepare them for the transition to the Toddler room.  Once the child is onto solid foods and not the baby food you provide, then we will adjust them to our regular center menu for breakfast, lunch and snack.  At this time you will no longer need to provide food from home unless there are substitutions needed, accompanied by a Doctor's note for your child's file, or if your child is still on a bottle.Your child will be put down for a nap according to your requested schedule.  Once they reach 12 months we will try our best to only do one afternoon nap.  This adjustment to the one nap prepares them once again, for transition to the toddler room and their new schedule.  Daily report forms will be sent home every day to communicate with you their naps, feedings and changes throughout the day.  This also gives you a good idea of their mood and if any medications were administered.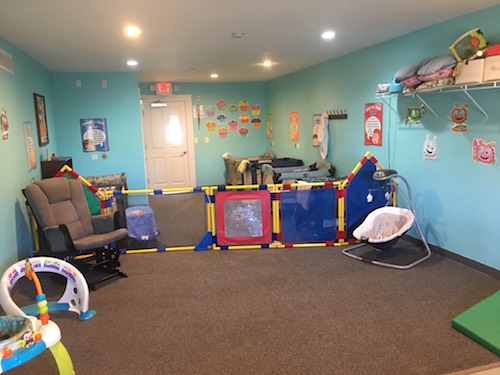 Toddler Ones
Requirements for the toddler ones room are that your child is no longer drinking from a bottle, and taking one solid afternoon nap after lunchtime.  They must also be able to walk well.  We will serve breakfast, lunch, and snack daily.  Children will brush their teeth after lunch so we ask that you provide a toothbrush that is clearly labeled with their name.  Nap time is usually from 12:00- 2:30 pm.  Each child will have their own mat to sleep on, and you will need to provide a sheet, blanket and pillow for nap time which can remain in the center during the week, to be sent home on Fridays for laundering.  Please remember to return them on Monday for nap time.
Toddler Twos
In Toddler twos room we will begin working on toilet training.  We will work on this in a very positive encouraging way.  Children will try and use the potty throughout the day and will be changed every two hours or as needed.  Toddlers will also be sent home with a daily sheet that communicates their meal, medication, naps, and potty training.  Their daily sheets will also share with you their overall mood and any additional notes. 
Parent cooperation is very important for success with toilet training! 
We will begin toilet training between the ages of 18 month- 3 years assuming they are ready by the following guidelines.
He/she is dry for long periods of time and is indicating with facial expressions / gestures that they are ready to use the restroom
He/she has language abilities and can talk enough to indicate when they need help going to the bathroom or needs changed.Parents will need to provide two changes of clothes during this time. 
Toilet training will be low-key and non-punitive.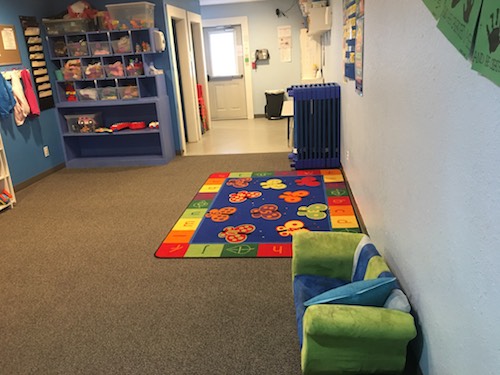 Preschool
Parents (3-4.5 year old children)
A child should be potty trained before transitioning to the preschool room.  Age groups for this classroom consist of anywhere from 2.5/3 years to 4.5 years old.  Our preschool room will have a monthly theme and the children will do preschool curriculum daily.  Curriculum includes focusing on certain letters and numbers each month.  We will also do craft projects, paint, and other large group activities.  Children will learn to work at their own pace and engage in free play, learning centers, organized play, and circle time.  Here we start preparation for kindergarten readiness. Daily reports will NOT be sent home for preschoolers.  Please look at our calendars and curriculum postings throughout the month to see what the children are learning about.  We will at times send home a monthly sheet with the current month's activities or reminders on them
Children will brush their teeth after lunch time.  Please provide a toothbrush with their name clearly labeled.  The preschool nap time is after lunch and the children are encouraged to have a rest period of 1 ½  to 2 hours.  Children will nap on a nap mat that the center provides. Please bring a sheet, blanket and pillow for your child.  Items will be sent home on Fridays to be laundered and returned on Monday.  We do not have extra bedding so please remember to bring your items back on Monday.